We need to be aware of what we have and be thankful for it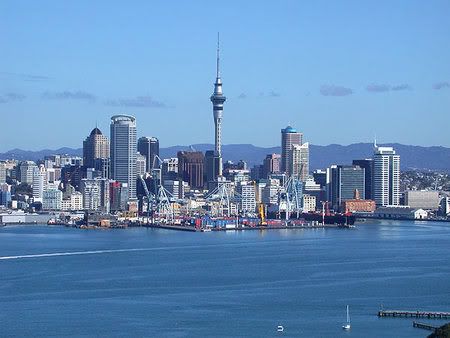 Downtown City Auckland.
The City of Sails. That's what Auckland in New Zealand is also known for. Marami kasing sail boats dito. Sailing is also one of the favorite water sports of Aucklanders, aside from fishing. In 1995 and 1999, Team NZ won the America's Cup, the most prestigious yacht race in the world. Auckland hosted the race in 1999 and 2003. Kaya lang tinalo ng Swiss Team (whose crew were New Zealanders!) in 2003.
These are just a few things about Auckland, the city I've lived in for the past 9 years now. Maswerte kami dito sa Auckland. In the past 9 years I've been here we've never experienced any natural calamity. Hindi pa ako nakaranas ng bagyo dito. Madalas ang ulan pero never na bumagyo. Earthquakes, hindi pa rin (knock on wood). Bush fires, wala din kasi green lahat ng bundok. Para ngang naka-bermuda grass. In fact, one famous Pinoy actor who visited commented that NZ is like a golf course. Kasi the grass everywhere even in hills and mountains, parang ni-lawn mower. The climate here is sub-tropical. Para kang naka-aircon, everyday. Hindi naman malamig na malamig. Parang Baguio City lang ang lamig.
Now that I'm trying to write about this place, I realized how after living in it for sometime now, I've somehow lost the sense of awe and admiration I used to have when we were still new to the place. Nung bago pa lang kami dito about 2 years pa lang, I used to think to myself that here in NZ,
"everyday is a holiday"
. Hindi kasi kami na-stress dito e. Walang gaanong traffic. Hindi crowded, konti pa tao. NZ has a population of only 3.5 million people. At any time one can go to the numerous beaches and parks nearby. Spend the time there and just be one with nature. Very relaxing at wala pang gastos. Ngayon, parang ordinary na lang lahat ito. When you have something all the time, you forget to be thankful for it. You take things for granted. Sabi nga nila you learn to appreciate things only when you lose it. I believe this is true to everything we have. Lifestyle, health, money, job, home, family and friends, I thank my Creator for all these blessings.