Renting a Flat
Here are some of the things you may want to know about renting a flat or a house in NZ.
First of all, you need to decide which city and suburb you'ld want to live. You have to consider accessibility to shops, workplace, schools and public transport. Kailangan mo rin alamin ang peace and order situation ng area. Baka nga mura ang rent, pero, madalas naman ang mga nakawan at maraming graffiti. Magtanong-tanong ka. Alam ng karamihan ang mga streets/areas na notorious sa mga kabalbalan. The thing to remember, though, is that you won't find a perfect place. You have to compromise and in the end it is only you who can make the final decision.
Once, you've decided on the suburb or suburbs, browse for rental properties in the classified ads. Go to the offices of real estate agencies. Meron silang section solely for rentals. If they have none available, you can leave your contact details with them and they'll find a property for you. Another source is the internet and below are some websites that you can visit.
http://www.nzherald.co.nz/
http://www.stuff.co.nz/
http://www.trademe.co.nz/
http://www.trade-exchange.co.nz/
Magkano naman ang rental ng mga flat o bahay? Ang magandang puntahang website para may idea ka kung magkano ang going rate sa isang lugar ay ang
Tenancy Services
.
May
statistics
sila ng market rent ng bawat lugar. You'll see the minimum, maximum and the average rent for each area for each type of dwelling. The example below shows the information for Glenfield, Auckland. The prices given are weekly rent in NZ$.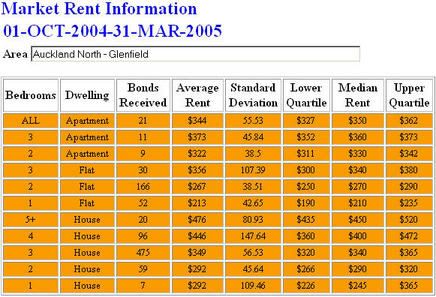 In most cases you will be required to pay 2 weeks advance payment, 2 to 4 weeks bond and sometimes 1 week letting fee, before moving in. Yung bond, ide-deposit yon ng landlord sa Tenency Services. The bond is for the landlord's protection. Kung may damage na mangyari sa property, ide-deduct sa bond. At the end of the tenancy, you can refund the full amount of the bond or a fraction of it, depende kung may damage ang property. Yun naman letting fee, usually sinisingil yan ng real-estate agency na nag-advertise ng property. Kung wala naman agency ang involved wala ka rin dapat bayaran na letting fee. The normal length of the tenancy agreement is 6 months, but automatically renewed after that.
What are your rights and obligations as a tenant? How about the landlord? Pwede ka ba niyang palayasin o taasan ng rent anytime? There are laws about renting that you might want to familiarize yourself with before signing any agreement. The best source for this is again the Tenancy Serrvices. They have online brochures like:
Renting and You - a guide to the law about renting
What to Do When You're Renting - a guide for tenants
In case na magkaroon ng hindi pagkakaunawaan between you and your landlord, there is also a process for sorting out disputes. The brochure
"Sorting it out - all about disputes and mediation"
outlines this process.
I'm not going to repeat here what's contained in these brochures. I leave it up to you as homework. I'll just list down some general tips and pointers:
1. Ask the landlord who pays for water and wastewater? (In Auckland, it used to be that the tenant pays for water while the landlord pays wastewater (wastewater is a separate charge for the disposal of used water). But now it is more common for the tenants to shoulder both).

2. If there's a lawn or garden, clarify from the landlord who's going to do the lawn mowing/gardening? There is no rule for this. It's between the tenant and landlord to agree on.

3. Note down the water and electricity meter readings together with the landlord on the date of moving in.

4. Call the power company prior to moving in to arrange for electricity supply.

5. Call the phone company prior to moving in to arrange for a phone connection.

6. It pays to get a home contents insurance to protect you from lost of valuables against burglaries especially in areas where this is common. Burglars often target Asian migrants new to a place because they know they keep cash and jewelry in their homes. DON'T KEEP BIG AMOUNTS OF MONEY OR JEWELRIES AT HOME! May kaibigan kami, bagong dating dito, dala nila ang kanilang life savings in US$. Pinasok ang bahay nila. Ubos ang US$. The insurance can repay the lost of appliances, but it's difficult to claim for lost of cash and jewelries. Better be safe than sorry.

7. If you don't feel safe with the security of the house, try to negotiate the installation of a security system (burglar alarm) with the landlord, if there is none yet. The issue of security is more prevalent in some suburbs especially in some parts of Auckland. Sa ibang lugar, this may not even be an issue.

8. Check if the property has an external TV antenna. If there is none and the reception using an indoor antenna is weak, you may want to arrange with the landlord for an antenna to be installed. But it's up to you to negotiate who pays for the installation.

9. This one is quite important. Be acquainted with your neighbors right away. Even before signing any rental agreement, talk to the next door neighbors. Kilatisin mo ang mga nakatira sa paligid. Kung mga mukhang gangster at addict, baka it's not worth moving to the place. Importante ang may peace of mind ka sa lilipatan mo. I've heard horror stories before na kapitbahay pala ang siya pang nagnanakaw sa kanila. Make an effort to say "good morning" or "good day" when you see them. Such a simple thing, but goes a long way in making you feel at ease. If you're at least in talking terms with your neighbors, you'll feel relaxed and at home with the place right away.
Good luck na lang sa bago ninyong tirahan! At sana yung next na lilipatan ninyo, sarili na ninyong bahay.