The Diary of Clarabelle Lorance (part 1)
This was written by Fidez when she was only 12 years old.

The Diary of Clarabelle Lorance (1830-1845)
Her Journey to California
by Fidez 8LL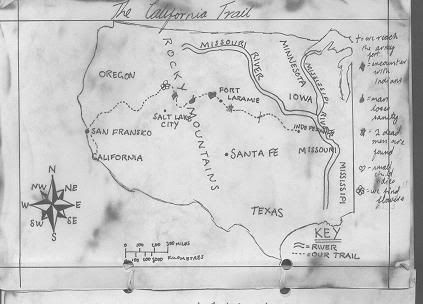 (Map drawn by Fidez of Clarabelle's journey from Missouri to California)




8th February 1845


Dear Diary,
Since our journey began a lot of people have died of cholera outbreak. I fear that I too may fall victim to this deadly disease. I have decided to keep a record of our journey so if I should pass away my brothers and sisters, and people younger than me, will be able to look back on our journey. Oh it seems so long ago since Papa decided that we should head west in search of gold and fortune. Sometimes when we look back, we sometimes regret leaving home. Papa tells us to keep going and he encourages us to go on.




11th February 1845


Dear Diary,
Lately our food supply is running low and our water is starting to go brown. It has been days since we came upon a clean waterhole. Yesterday we passed a waterhole however, the buffalo had already reached it before we did and the little water that was left was contaminated. Everyone's spirits are down and we are all getting dehydrated. I do hope we reach the Army fort soon so that we can replenish our supplies and our spirits for the long journey ahead.



(to be continued...)