When do we lose our children?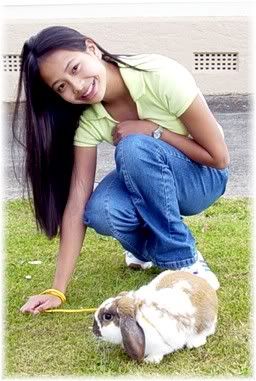 Fidez playing with her pet rabbit
My wife and I were having a bit of discussion last night about our daughter. We are beginning to realize how she's changing physically and emotionally as a teenager. As a 14 year old she's beginning to discover how it is to start being free. Compared to when she was still little, nararamdaman namin na parang unti-unti siyang napapalayo sa amin. She's spending more and more time with friends, on the phone and by herself. Dati-rati kapag umaalis kami ng bahay parati siyang kasama. Ngayon, she prefers to stay home and hang out with friends. Not that this is a bad thing because we know she's very responsible, obedient and really behaves very mature for her age but as parents we can't help but worry sometimes. Nabanggit nga ni misis na ilang taon na lang at pwede na kaming iwanan ng anak namin. Kakatakot isipin, no?
Kaya lang, as parents we know we can't cling on to our children all the time. We have to release our clutches on them and allow them to grow; discover life, both the good and the bad of it. Guide them of course, but be not afraid for them to make mistakes. Let them cry and feel pain at times. Kasama lahat ito sa pagiging adult and building a strong character. Comes a time that we should stop choosing for them their food, their clothes, their friends. We have to allow them to make those decisions by themselves because soon they'll have to leave us to face the world alone. But when does that happen? Is it when they turn 18 years old? When they leave home and live away from us?
Sabi ko sa misis ko, kung parati mong papagalitan yan kahit sa katiting na bagay at kokontrahin ang lahat ng ginagawa niya, darating ang araw na mapapalayo nang mapapalayo ang loob niya sa yo. When that time comes, kahit hindi pa siya 18 wala na siya sa atin. On the other hand if we try to be more understanding towards her, we can continue to maintain her emotional attachment with us, kahit na kapag may asawa at mga anak na siya. We have to make her think that we are not only her parents but her allies and best friends too. Kailangan lang ay tamang pag-gabay at pang-unawa and with God's help hope for the best.
So when do we lose our children? The answer is never, BUT... THEY MIGHT (LOSE US).