Ahh, the joy of bargain hunting!
The best site to go to when buying second hand goods in NZ is inarguably TradeMe. This is NZ's equivalent of eBay. Last week I saw this fridge in TradeMe. The seller's description says "In working order - kept beer cold but might need new seals. Graffiti is free (can be cleaned with jiff and a bit of elbow grease)".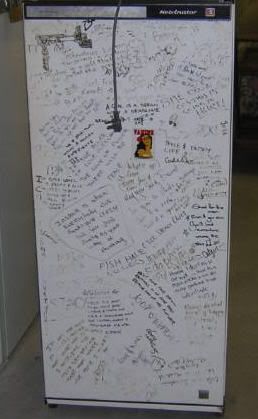 There was no reserve for the auction and the starting bid was 0.50 (50 cents). Another person placed a bid for $1. Just for fun I placed my bid at $1.50. Last Sunday at 6 PM, the auction ended. Sunday night, I opened my PC and went to my inbox. I got the following email.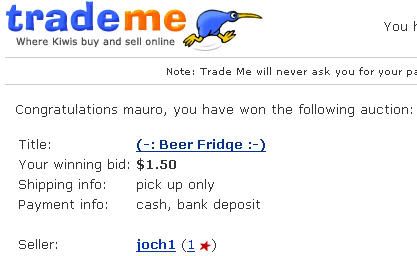 I immediately contacted the seller and arranged to pick up the fridge the following day. And so yesterday I became the proud owner of a Kelvinator fridge/freezer with a capacity of 175 Liters,and is about 1.3 Meters high and half a meter wide and definitely had lots of graffitti. I plugged it to a power outlet and viola, it was working! It even has a small freezer, wala nga lang cover. I tried acetone to remove the graffitti, naaalis naman. Isang bote ng acetone at konting ajax, tiyak gwapo na naman ang fridge. O say nyo. Saan ka makakahanap ng fridge na mas mahal pa yata ang bote ng acetone at ajax?