Lessons from a Garden Hose
Below is a picture of a garden hose. The tap is closed kaya walang tubig na lumalabas. What do you think will happen if someone opens the tap? Hindi po trick question ito? Common sense lang. The hose nozzle if it's open will discharge a jet of water and if left unrestrained will move backwards and side to side in erratic fashion.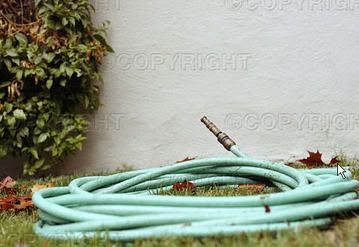 If you are holding a hose with water running through it and the hose has no nozzle, how do you make the water eject a farther distance? Simple lang di ba? You try to reduce the opening at the end using your fingers. By reducing the opening, the flow velocity increases, thereby making the water discharge a farther distance. Now, there is a proper technique of doing this if your objective is to cause the longest trajectory. Done improperly with one's fingers, water will jet out in scattered manner as in the picture below.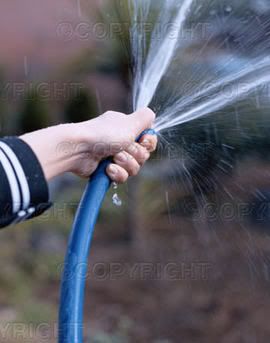 Now where is this post going? Ganito po kasi yon. Minsan sa isang gathering, narinig kong naguusap si esmi at ang iba niyang amigas. As usual, favorite topics nila ang kanilang mga mister. More specifically, ang mga kapalpakan at mga complaints nila sa kanilang mga mister. Sabi ni Amiga 1, "Hay naku, sawang-sawa na akong maglinis ng toilet. Yan kasing si E, kapag umihi, daming patak sa bowl at sa floor.". Second the monyo na man si Amiga 2, "Oo nga, kakainis. Ba't kaya ang mga lalaki hindi nila mai-shoot ang kanilang ihi sa bowl?".
Hindi na ako sumabat sa kanilang girl-talk. I could see how they were relishing those moments whenever they talk about the faults of the male species. Gusto ko sanang sabihin sa kanila na kaya matalsik ang buga ng wee-wee ng kanilang mga asawa ay dahil mali ang technique nila ng pag-wee-wee. Kung sasabat ako, baka naman ipa-demonstrate pa sa akin. Hehehe. So nakitawa na lang ako.
So papaano ba ang tamang technique ng pag-wee-wee? Kayong mga babaeng mambabasa, i-eksplika ninyo sa inyong mga asawa, boyfriend, at mga anak na lalaki para hindi kayo umuupo sa basang toilet seat. Sa mga lalaki naman, be considerate to your wives or mums, especially kung hindi naman kayo ang naglilinis ng toilet, by following these rules on the proper way to pee.
Rule number 1: Always hold your "thingee" properly. If you don't hold it, it will be like an unrestrained hose spewing liquid everywhere. At the very least, hold it so that most of the liquid is aimed at the center of the bowl.
Sometimes, rule 1 is not enough to avoid wayward droplets. Yung iba kahit anong gawing pag-aim sa bowl, may talsik pa rin. This is because the opening at the end of the "thingee" is actually not round, but elongated. Imagine a miniature vagina placed at the end of a man's penis, ganun yon. Kaya yung buga ng wee-wee, usually elongated din, hindi bilog. Minsan sabog tulad nung nasa picture sa taas. This is why, men need to follow Rule number 2. ALWAYS.

Rule number 2: The proper way of holding the "thingee" is to slightly pinch the top end of the head's opening with one's fingers so that the opening is slightly restricted. (Sorry po, wala akong picture nito. Gamitin nyo na lang imagination nyo. KD, baka naman pwede mo akong gawan ng graphics nito). By pinching the top end, you are in effect making the opening smaller and less elongated. Thereby, causing the wee-wee to be more convergent. Hindi sabog.

Rule number 3: Pagkatapos jumingle, tap the "thingee" slightly, or ipagpag ng marahan para mahulog yung last drops. Do this gently para ma-shoot din yung huling patak sa bowl.
Yan po mga kaibigan ang sekreto ng tamang pag-wee-wee. I won't be surprised if lots of men only follow rules 1 and 3, but not rule 2. Tanungin niyo man ang mga mister niyo. Or better, panoorin niyo kung paano sila mag-wee-wee. If they don't follow the 3 rules, pitikin niyo mga b*yag nila. Sabihin niyo utos ni KU. Ako, I only realized Rule 2 after finishing a class in Hydraulic Engineering. Hindi naman po kasali yan sa curriculum. Basta natuklasan ko lang minsan habang pinapanood ko ang sarili kong wee-wee at nag-iisip ng practical applications ng fluid mechanics. My last advice for men who can't follow Rules 1, 2, and 3: Refrain from urinating in standing position. Just do it sitting down (but not in public, ok?).