It pays to pay off your mortgage early
Hi KU,
Kabibili lang namin ng bahay. Ano ba ang pwede namin gawin para mabayaran namin kaagad ang utang namin sa bangko? Ayaw naman namin umabot ng 60 at nagbabayad pa rin ng utang. Masarap di ba ang mortgage-free na sa ganong idad?
Sinsirli yors,
Ano ni Mouse
---
Mr. Ano ni Mouse,
Madali lang ang problema mo. Holdapin mo yung bangko. Corneeh! Hindi, seriously ganito yon, let me give you a short lesson about mortgage loans. Buti na lang present ako nung itinuro ito sa class. Don't worry, madali lang.
For example, you borrowed $100k from a bank at 8% annual interest for a term of 20 years. Unang tanong, how much money would you have paid at the end of 20 years? Para madali ang computation, assume na lang natin na once a year ka kung magbayad. The answer to the above question and the calculations are shown in the table below.
Year 0, 100k ang utang mo. End of year 1, 8000 (8% ng principal) ang interest. Nagbayad ka ng 10185. Kaya end of year 1, 97815 (= 100000 + 8000 – 10185) na lang utang mo. So on and so forth until end of 20 years, wala ka ng utang.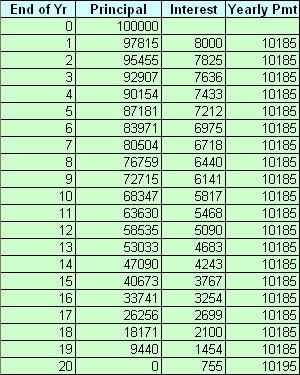 If you continue paying $10185 yearly (except for the last year which is $10 more), you would have paid your loan in 20 years. If you add up all the payments, the total amount you would have paid will be (drum roll please) $203710. Which is about twice the amount of the loan! In other words kumita ang bangko ng $103k from you.
Going back to your question, ano ang pwede mong gawin para mabayaran kaagad ang utang mo? The answer is to minimize the interest payments. You can do this by paying a little bit more yearly. How much? It doesn't matter how much as long as it is more than the minimum repayment. The table below shows an example where you pay $14903 yearly or around 50% more than the minimum repayment of $10185.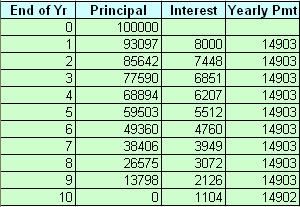 Adding up all the yearly payments, the total repayments will be (drum roll again) $149029, or a savings of $54681 compared to the previous $203710. Not only did you save $54k, you also paid off your loan in only half the term, sampung taon lang. Ang maganda pa, after the 10th year, you don't have to pay $14903 anymore. It's like having extra cash na pwede mong gastusin sa ibang bagay. Yheey, bakasyon na!
Ako naman ang magtatanong sa yo ngayon Mr. Ano Ni Mouse.
How much should your repayments be if you want to pay off the loan in only 5 years at magkano ang mase-save mo?
If you pay 8000 yearly, how many years will it take for you to pay off your loan?
O, ayan ang homework mo. Tanong ka nang tanong eh.