"The best way to destroy an enemy is to make him a friend." - Abraham Lincoln
This morning while driving on the motorway on my way to work, a truck suddenly swerved and cut in front of me. I was caught by surprise because the truck didn't even indicate and in my surprise had to step on the brakes quite abruptly. In my younger years I would most probably have retaliated. I'ld probably stepped on the gas to overtake this lunatic and in the process give the driver the dirty finger.
But I'm older now and wiser. I've realized retaliation and violence can only lead to more violence. Being more mature, I've learned to contain my anger and have better self-control. I wasn't like this before. I remembered having fits of tantrums when I was angry and would vent my ire by cursing and swearing for days. Now I've mellowed and changed. This came about when I've finally grasped the meaning of free-will.
Not many people fully comprehend the power of free-will. Many of us still let our actions be dictated upon by our emotions. When someone makes us angry, we hit back on that person. When we're hungry, we eat. When sleepy, we sleep. When in love, we love. There's nothing wrong with that so long as the emotion is a neutral or a positive one. But if the emotion is a negative one, for example anger or hate, this is when we should exercise our God-given right to free-will.
Free-will is about choice. In everything we do we have a choice. When someone upsets us and makes us angry, we have a choice on how we'ld react. It's either we let our emotions take control of us and we retaliate and hit-back or exercise self-control and do something that is non-violent and reconciliatory. Most people do the first one because it is more humanly natural, although it is not really the right thing.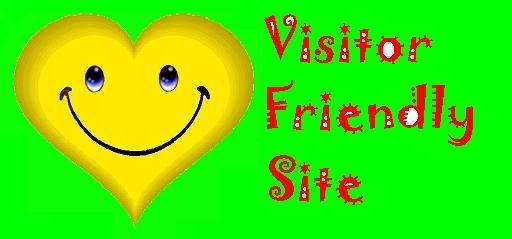 For myself, I've made a conscious decision to follow the second option. As a blogger, I'm exercising my right to freewill not to retaliate on anyone. To signify my decision I've decided to put a stamp on my blog and announce to all visitors coming in to my site that this site is a
VISITOR FRIENDLY SITE
. It is my promise to anyone who comes in to my site, leaves a comment or message, either it be good or bad, for or against my views, that I am willing to listen to them and that if ever I'm offended with what they've written that:
I will not react violently at them.

I will not reply back in a menacing tone or manner or use foul language or swearing.
I will sort out our differences with them privately and discretely and refrain from quarreling or bickering in public.
Most people blog and read other people's blog to find small relief from the stresses of everyday life. I believe it's unkind to add any more stress to people by involving them in personal quarrels and animosities.
This is a crusade to restore and maintain peace and harmony among fellow bloggers. My appeal is for everyone tired of the in-fighting and the negativity in the BlogoSphere, and share the VFS views of open-mindedness, reconciliation and non-retaliation to join this crusade by displaying the VFS icon on their sites.
I've made my choice to treat all visitors with courtesy and respect befitting a true guest and friend, the VFS way. How about you? What's your choice?