AKLnzPinoys sa Diaryo Filipino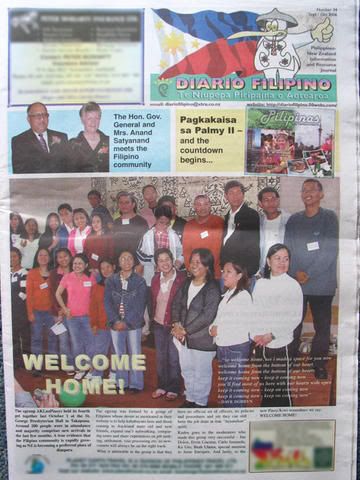 Yan po ang frontpage ngayon sa Diaryo Filipino. Isang local newspaper para sa mga Pinoy na naninirahan dito sa New Zealand. At eto naman sa baba ang writeup ng diaryo tungkol sa
AKLnzPinoys
. Big thank you to J and N Gregorio for this article and their continuous support for the group and the Pinoy community.
As reported by Diaryo Pilipino
Welcome Home! The egroup AKLnzPINOYS held its fourth get together last October 1 at the St George Presbyterian Hall in Takapuna. Around 300 people were in attendance and majority comprises new arrivals in the last few months. A true evidence that the Filipino community is rapidly growing as NZ is becoming a preferred place of diaspora.

The egroup was formed by a group of Filipinos whose desire as mentioned in their website is to help kababayans here and coming to Auckland meet old and new friends, expand one's networking, compare notes and share experiences on job seeking, settlement, visa processing, etc... so new comers will always be on track.

What is admirable in the group is that they have no official set of officers, no policies and procedures and yet they can still have the job done in true "bayanihan" spirit.

Kudos goes to the moderators who made this group very successful - Jun Dolon, Ervin Lllacuna, Carlo Jaminola, Ka Uro, Beah Ulama, special mention to Jesse Enriquez. And lastly to the new Pinoy/Kiwi we say: WELCOME HOME!